Affordable, sustainable clothing made, sold & worn to help people rise out of homelessness.
The simple idea that inspired our founder, Stevie, to start CDUK.
"While working on a related project, I was walking through College Green in Bristol – a place for sharing ideas, protesting injustices and chilling with friends. A hand-written sign was left on the bench that read "98 people are sleeping on the streets tonight. That seems like a solvable problem". I completely agreed.
Every time, but especially around the wintertime, my heart breaks for the people shivering on the streets, always wishing I could do something more to support them.
Believing business should be about more than just making money, we will not just be another ethical brand as we will use our resources to directly contribute to solving homelessness in our community"
It starts with a t-shirt but ends with 98 people off the streets and back on their feet.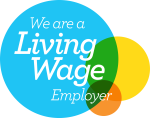 CDUK x Enham Trust 'Freedom' T-shirts